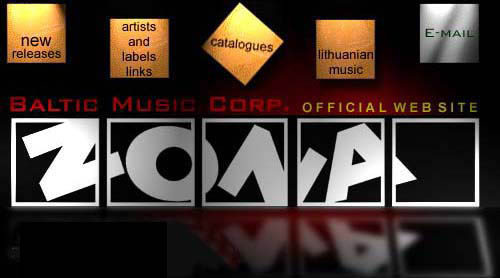 PLEASE, DON'T FORGET that this is v. 1 of Zona web 1996-2000
so the information here is very old | we just try to update the links

NEW RELEASES has comments and pictures of some of the last records available through Zona/BMK.

ARTISTS & LABELS links to the original sites of the labels we used to distribute and their key artists. We have tried to include only sites not from their labels websites.

CATALOGUE gives access to the list of CDs, cassettes and other items released by the labels Zona/BMK was distributing in the Baltic States in the past.

LITHUANIAN MUSIC will

guide

you to some LT music sites.

More links you'll find

at the

[web gate] of zona.lt.

STYGOS was my radio program, broadcasted weekly by Laisvoji Banga Radio on 104.7 FM.

PAČIŲ BLOGIAUSIŲ GRUPIŲ FESTIVALIS - The Worst Bands Contest was

funkcioning

for 10 years.

LITHUANIAN COUNTRY MUSIC is an unofficial homepage of the Lithuanian Country Music Association.