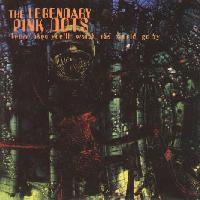 The Legendary Pink Dots, though long familar to me by name alone, are one of those bands that you just don't seem to hear.  Sure, Skinny Puppy fans know of the Dots' connection to the Tear Garden and some record critic is waving his import records screaming, "I knew!"  But for the most part the Dots are unfamiliar to American ears.  Hopefully this new CD will help change that.
The neatest thing about the Dots is their lack of set rules for songwriting.  Over the years there has been a constant revolving door of members (excepting singer/yarn-weaver Edward Ka-Spel), each bringing something new to the table.  And thus each new record brings a variation on the sound as some members play completely different instruments than their forebearers. (Ask Niels van Hoornblower, who toots on all sorts of horns.)
Sometimes soothing, sometimes jarring, the Dots create grand tapestries of sound.  Anyone familar with the Tear Garden will hear instant comparisons, but most of the current Dots played on To Be an Angel Blind.  Edward still uses that dry, heavily accented voice of his, weaving incredible tales of all sorts of people you might envy, love or hate.  Very suitable music for late night roadtrips under dark skies.
8/97
Track listing:

1. Clockwise
2. Citadel
3. Friend
4. A velvet resurrection
5. Kollusim
6. 1001 Commandments
7. Remember me this way
8. This one-eyed man is king
9. Straight on 'til morning
10. Damien
11. This hollowed ground