very old empti website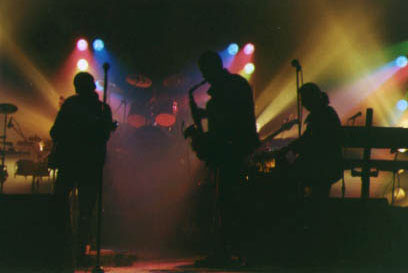 biography
In his early teens Paulius quit music school and decided to play guitar. He picked up one, found out how to tune it and started his studies. He never had a proper guitar teacher, just copied the guitarists he saw on a TV. Being a smart and talented kid he soon reached quite remarkable for his age level. In the meantime, two other neighbourhood boys Darius and Kristis used to play long bass and drums jams in the basement of their house. They probably would join some band, but Kristis got a chance to study his final class in the US. While he was completing the secondarily education, Darius happened to find out Pauliusí guitar skills. They waited for Kristis and a band was born. Choosing meaningless name, the guys changed the spelling to ensure itís meaningless and by the end of 1993 debuted as empti. After a couple of gigs they got under wing of local indie label Zona/BMK. In 1994 empti won prestigious ĎThe Worst Bandsí contest, shook up Duisburg EuroRock seminar and experienced their first recording session. Itís material was released next year on one of Zona/BMK split ĎYoung Lionsí series cassettes. By that time empti regularly played in local clubs and was gaining very creative and professional band reputation.
[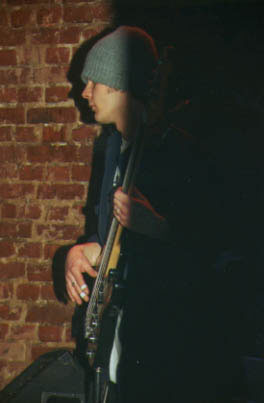 Around 1995 Paulius started to jam with DJs adding his guitar improvisations to the monotonous techno beats. New music of empti adopted a lot of dance elements too, what was far ahead of time for the Lithuania on 1995. So it was decided to move closer to the mainstream and the singer Sharas was invited to join the band. Together they recorded a demo of 5 songs and an instrumental featuring Indian classical music group Svara. All songs were prepared in both Lithuanian and English versions. The single Ďgeros blogos nuotaikosí and other songs proved that empti is a serious contender to the local pop stardom. But the guys werenít comfortable with vocals dominating their music and Sharas soon left to start his own band JazzWays. From the end of 1996 empti definitively turned to the dance music. The band was joined by two more musicians - young Vilnius sax player Gleb known for his work in Bix and numerous solo projects and analogue-obsessed keyboards expert Darius. A new empti played fantastic rock/dance/jazz fusion and instantly became a number one attraction for the local dance parties and rock clubs. They began to improvise not only with their compositions, but also with the line-up playing almost every gig with the different set of guests. Each time the music sounded differently, but the performance was so good that the audience got the impression of carefully prepared and rehearsed program.
>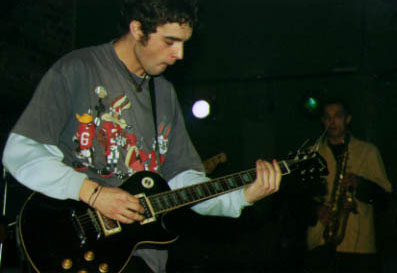 In 1997 empti twice visited St Petersburg where they played in all main rock, jazz and dance clubs. Everywhere they received enthusiastic audience response and rave critics and industry insiders reviews. Back home empti recorded a new demo and went through some personal changes. They were joined by the new drummer Zydrius, while Kristis moved to percussionist/second drummer position. Gleb decided to pay more attention to his personal projects, but will continue to work with empti as a guest artist. empti have reached their most powerful shape to date and started to work on the forthcoming debut(?) album. Itís planned to be recorded in the end of 1997 or early 1998 and released in 3 formats: CD-E featuring programmed section with videos and varied data, cassettes and 12" vinyl with remixes. That can look slightly over the top for poor post-soviet conditions, but empti waited for the album so long and today itís undisputedly one of the best modern bands in this part of Eastern Europe.
During 5 years of itís existence, empti lived through a lot of personal and stylistic changes. Through they havenít reached the local pop stardom, their inventive music and stunning performances won them devoted following and definite cult status among music fans everywhere they played, was it their native Lithuania, Baltic states, St Petersburg or Belorussia.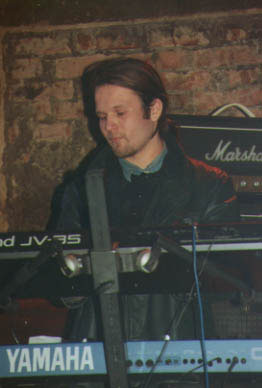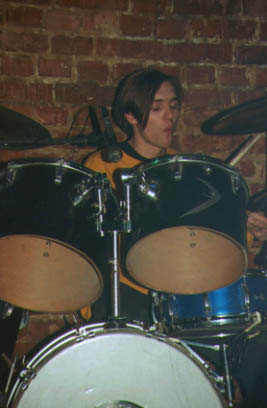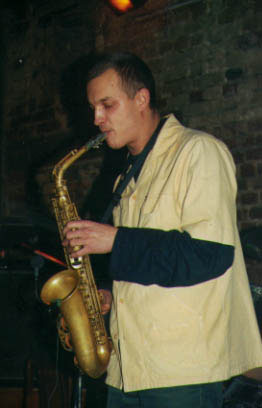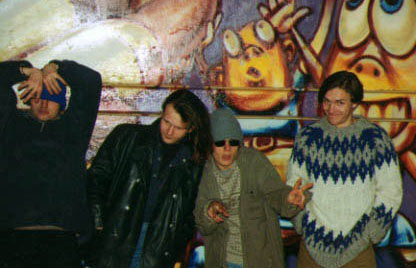 empti feat. Gleb Vascenko
(fragments, mp3 mono 24 kbps)

back to Zona