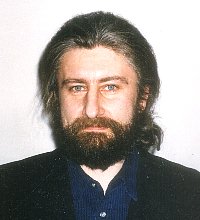 REMIGIJUS "ZDYSKA" JUSIONIS
1956 was born in Vilnius, Lithuania.
1980 graduated Vilnius Art Academy, Department of Scenography.
"I like ancient urban motives, the blend of abstract and realistic. I like elegance and bright and loud colours, gold and silver in my paintings. Some bigger works are historical series of 10 large paintings, paintings for the gun shop, a bank, several flats. Many works have been sold to people from abroad: Finland, Russia, Germany, USA, Israel and Italy."